Specifically engineered to provide access to confined or restricted working areas.
Spider cranes share many features with their conventional counterparts. The notable distinction being they are designed to operate in constrained environments. Their compact size allows them to function effectively on difficult surfaces and  confined spaces.
Compact Body
Spider cranes are known for their compact body that enables them to pass through standard single doors and work indoors. 
Crawlers
Spider cranes are equipped with crawlers that enable them to access tight spaces.
Effortless Product Delivery
Results in fewer site disruptions and less time wastage.
How Crawler Cranes Can Help
Spider cranes excel in narrow and restricted areas, fitting through standard doors and elevators. With rubber crawlers, they can perform crane work on higher floors without damaging the flooring. Both electric and battery-powered Spider Crane models enable safe indoor operation with zero emissions.
Compact and versatile. Outperforms in confined and challenging areas, traditional crane features for efficient operation.
Mini crawler cranes easily navigate rough terrain, adapt to confined spaces with adjustable outriggers, ideal for hard-to-reach areas.
Effortless Crane Operation
User-friendly  with speed-adjustable crawlers and safety features, portable for easy delivery.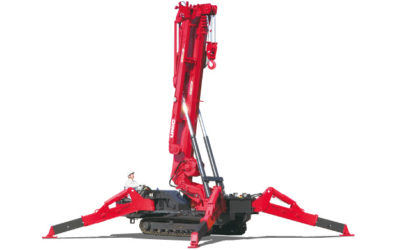 Max. Lifting Capacity:
10.14t x 3m
BG Lift Spider Crane Range
Speak to our Sales Team Today
Speak with industry experts, our team is loaded with experience. Advice from our application and product specialists can save you from making costly mistakes when considering your next equipment purchase.
Sign up to our newsletter for regular updates on news, promotions, deals and offers.